Boom-chicka-boom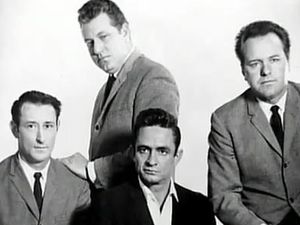 Johnny Cash & the Tennessee Three: from left Luther Perkins, Johnny Cash, Marshall Grant. Back: W.S.Holland
One of country music's most famous styles came to life as a result of four men's lack of ability to play any instrument, and later adding a copycat. This sounds like an insult, but it's a fact, and they all have admitted it.
«People have asked us how many years we used to work out that style. It was there from the very first time, and then we spent many years trying to get rid of it».
- Marshall Grant from a speech in Nashville 2003 -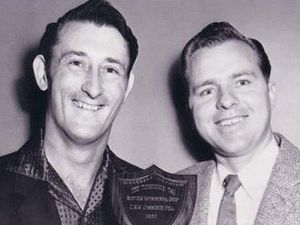 Luther Perkins and Marshall Grant
It all started in -54 with two mechanics at Automobile Sales Company in Memphis, who played a bit together for fun in the evenings and weekends. Roy Cash ran the store, and introduced Luther Perkins and Marshall Grant to his younger brother J.R. when he returned from the army. All of them played rhythm guitar; no good line-up indeed. They agreeded upon J.R. having the best voice, so Luther bought a second hand Fender Esquire and Marshall got himself a Kay upright bass. Johnny - by now he started to use this instead of J.R. which was given him at birth - borrowed Marshalls Martin guitar (and kept it!). So there the line-up was ready. But how to play?
The first problem that occurred was tuning the bass ... well, they found out all by themself. Marshall picked a string "boom" and slapped the neck "chicka" to make a kind of percussion, Luther destilled single notes from the chords he knew, altering a muffeled but steady "dap-dip-dup-dip" beat (the volume control on his Fender was damaged!) and Johnny beat the Martin frenetically. Okay, that was how to play. Now, *what* to play?
First they focused on gospel. They went to Sun Studio at 706 Union Avenue, where Sam C. Phillips listened to them and said «Go home and sin, then come back with something I can sell!» And so they did. Johnny Cash & the Tennessee Two, with their special and simple sound, covered the charts from -55 to -58, then leaving for Columbia Records, as Phillips gradually lost interest for recording and started working on radio stations instead.
Thanks Heaven they resided in Memphis. In Nashville, the capitol of country music, the group would have drowned in the commercial melting pot, if ever been given a chance. Marshall Grant again: «We really wanted to sound like the others, but we weren't able to».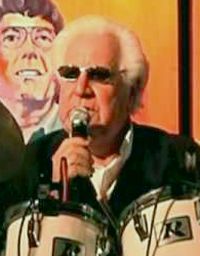 W.S.Holland
And then they were three ... W.S."Fluke" Holland had occasionally played with the group on demand. In -60 he was asked about a road trip for two weeks. He accepted, and stayed with them for almost forty years ... being the only drummer Johnny Cash ever had.
At that time, Holland was a respected drummer, but he dropped into business exactly like a fluke. He used to hang around with Carl Perkins and his brothers, and his habit was tapping the rhythm on the bass cage. When Perkins needed a drummer, he asked W.S - by rumours because he owned a Cadillac! He didn't have a clue about drumming, but Perkins said «if you can keep rhythm the way you do with your fingers, you sure can drum!» So he borrowed a set and let it go. W.S. was left-handed, and didn't know anything about arrangement of a drum set. He put it up the way he felt comfortable with, and he kept on that way. He became the first drummer ever to enter The Grand Old Opry behind a complete set of drums.
Teaming up with the Tennessee Two was the final dot for that style. Marshall swapped to electric bass, and a new nickname appeared: "the train beat" and later on "the Cash beat". All good music is a result of coincidence.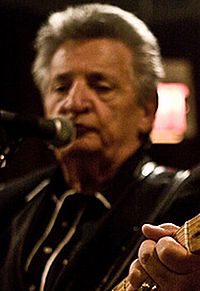 Bob Wootton
In 1968 Luther Perkins perished in a fire accident, falling asleep on his sofa with a lit cigarette. Crizis, but Carl Perkins (no family relations) stepped in temporarily. On stage in Fayetteville, Arkansas, with the audience waiting, Johnny and W.S. were told that both Perkins and Grant were grounded because of stormy weather. Double crizis. Then a woman walked up and said «my man can play like Luther Perkins!». That man was Bob Wootton, and that woman wasn't big talking. He knew every song they had recorded, every chord and every riff, and stepped right in. A perfect copycat.
A couple of weeks afterwards he was offered the job permanently, and he stayed with them until Johnny retired from stage in -97. He also kept in touch with W.S. to keep the sound going on, continuing as "The Tennesse Three" with his wife and daughter. His voice was not unlike Johnny's.
He started as a copycat, but had skills and mind to develop. Luther was a limited guitarist, and knew it. He made it straight forward. Bob was more raw and fuzzy, and the sound went more country-rock without losing the origin.

So, this is the truncated story of the boom-chicka-boom style, and a modest tribute to the handful of men behind it. They didn't create it by musical skill, but by playing straight from mind and heart, with the heart outside their jackets. It's still alive, though it's "four score and seven years ago" its prime time (you may call this "The Memphis Address"). You'll find it on street corners, in market places, in pubs and clubs - and in the heart and soul of people who love simple, catchy and unaffected music.
Epitaph
* Sun Studio declined during the sixties, was sold out to Mercury Records and closed down in 1969. In 1987 the building at 706 Union Avenue was bought back and rehabilitated, and is now serving as a combined recording studio and museum. In 2003 it became an official National Historic Landmark tourist attraction.
* Luther Perkins passed away only 40 years old on 5th of August 1968.
* Johnny Cash died 12th of September 2003, aged 71.
* Marshall Grant left the group in 1980, after filing a lawsuit against Cash for embezzlement and slander. The case was settled out-of-court, and they remained kind of friends, but he never entered the stage again. He became road manager for the Statler Brothers, and died at the age of 83 on 7th of August 2011.
* Bob Wootton left us on 9th of April 2017, aged 75.
* W.S."Fluke" Holland, called "the Father of Drums" was active with his "W.S. Holland Band" close to his death on 23th of September 2021, 85 years old.
Bless them all.

«songs come by themselves, dropped with the rain
or brought by the bright golden summer sun
words just come as likely : sailing on the breeze»

- khw, 27th of November 2017 -

Back to
Last song
Back to Album Index