Epitaph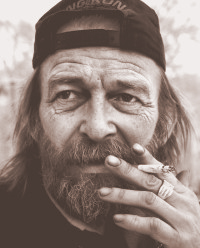 This summer my best friend Børre Hansen died. To quite a lot of people; not unexpected. To me, it certainly was. I'd counted on him for ten more years or so. In fact, I thought this bastard would beat me in years, due to his instict of survival.
I stepped across this guy 35 years ago, playing in public in our common home town. We kept in contact up through the years, and more and more I felt him like a brother. We were both musicians, though from a different point of view ... but we shared the interest for roots music.
Buddy didn't work out socially. He may have suffered from the society's lack of interest in certain peoples qualifications outstanding from the common. He was able to aquire any skill he *wanted*, disregarding what he didn't care about. Thus, he became an autodidact: a self-educated genious in electronics and data, and a multicraftsman in mechanics and woodcraft. Besides, he showed up certain skills in design and arts.
Buddy didn't like his nickname "foreman" : it reminded him of the freaking days. So I've promoted him to "section foreman". Post mortem, unfortunately.
Buddy was a brooder. He kept his religious side most to himself, but was sticking to the belief of Jesus Christ ... after all. We never discussed this: I accepted his belief, and he accepted my agnostic point of view. He supported the Salvation Army, as well as haven been taken advantage from them now and then. Give and take, but preferably give, was his statement.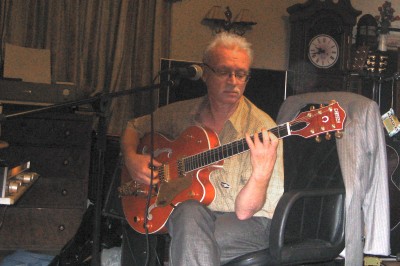 Two weeks before he died, he bought 5 new guitars, mics, pedals and a mixer in addtion to a hardware recorder. He called me, and said: "Now I've got a studio here. Come over, and let's see what we can do". I did. I intended to record my songs, with foreman Hansen's excellent harmonies and arrangements, and load them to my website. This project's now been rather dim, but I haven't given it all up. Gotta find another technician ... and another buddy. Don't keep your breath waiting.
Some late Sunday evening they called me from Fredrikstad Hospital: Børre had put me up as the closest relative. He knew he was at the end of the line, after a 14 days trip to Copenhagen. His liver couldn't take anymore, nor the rest of his inmates. On Tuesday morning they shut down the equipment, and my buddy vanished in 10 minutes.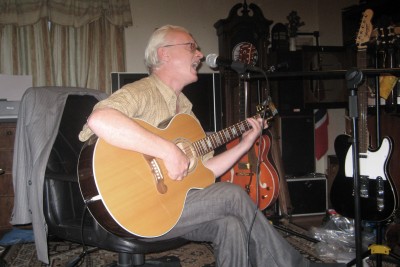 When the EKG went flat, I put my hand - which I'd grabbed to his arm for hours in vainless hope - to his chest, and said "You were my brother, Børre, thanks for all you did to me" (of course I spoke my native language norwegian) then I had a look outside the window, signed the forms and left to make sure he was buried a proper way. I've never used my cell phone before, as I did the following days.
The chapel was stuffed. People came from miles around, and were gathered to give this very special human a last greeting. The day before the funeral, I wrote "Buddy Call Later", but didn't dare to perform it at the ceremony. I chose "Jesus Was a Carpenter" instead. I think it was a good choice ... neighter did I burst out in tears, nor forget the lyrics, and the song (of course included with my album) reflects my buddy's thoughts. I played it with his own Gibson, and left it with his grave. I couldn't touch it any more. Hopefully, somebody else will.
See You back with lyrics' pages