SAN QUENTIN -
chords, tab and comments
What was wrong with 24th of February 1969? Mariner 6 launched for Mars flyby; the Unionist party of Northern Ireland fragmented in the parliament elections. Nothing indicated this to be a haunted day. But it was a Monday. Never record anything on a Monday.
Johnny Cash did. This Monday, he went on stage to record the succeeder of the masterpiece "At Folsom Prison" for Granada TV and CBS at San Quentin State Prison, California. Himself he must have caught the flu. Marshall Grant had uncomfortably converted to electric bass. Carl Perkins and the greenhorn Bob Wootton struggled to replace late Luther Perkins by raping their guitars. Fluke Holland was asleep at the drums. This was the day "boom-chicka-boom" died ...
Photographer Jim Marshall caught the fretful conditions between recording engineers and artist by shooting an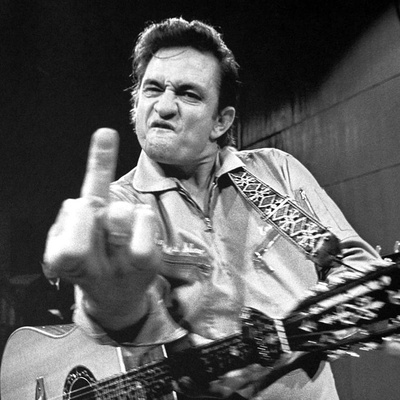 iconic picture in addition to the shady cover photo. The staff - from mixer to gopher - had a hangover, and the sound got metallic, harsh and horrible. The choice of material was incoherent, and made worse by the producer: Bob Johnston probably regarded the material rejectable, and left the damned job to some trainee, who goofed and slipped the lousy title track twice.
Dear Johnny: the inmates of this penitentiary are not penitent. They are murderers, rapists and varmints of first degree. Did you really identify you with these? No, you needed the money. And the company exploited your image and brand.
So why do I play this now and then? Because I love whoopiecrap and enjoy a really good vexation.



A                         E              A




San Quentin  you've been livin' hell to me




                           D                A




you've blistered me since nineteen sixty three




      D                                       A




I've seen 'em come and go and I've seen them die




                 E              A




and long ago I stopped asking why